Some of the biggest incentives of investing in solar attic fans in Arizona are the tax credits and exemptions. Let's look at these incentives to go green today!
Are Solar Attic Fans Eligible For Tax Deductions?
Most Arizona residents are eligible to receive the state tax credit in addition to the Residential Clean Energy Credit. This credit is currently valued at 25% of the cost of your system, up to a maximum amount of $1,000. Anyone eligible can claim this credit for up to five years. The amount is never to exceed $1,000, as stated above.
In order to qualify for the solar tax credit, Arizona homeowners must have a state tax liability. For instance, if a homeowner is charged a total of $2,500 for the installation of a solar attic fan, they are eligible for a tax credit of $625. This is exactly 25% of the cost. 
Federal Tax Credit
Also known as the Residential Clean Energy Credit, Arizonans are eligible for the Federal Tax Credit. This credit allows homeowners to reduce the amount of tax owed up to 30% of their solar panel installation cost from federal income taxes. In addition to residents who choose to install solar panels, battery storage system owners can also qualify for the credit. The majority of homeowners in the valley will opt for battery storage systems when investing in solar energy.
hile this credit does not directly lower the cost of your solar system, it will undoubtedly help offset the cost by lowering your tax liability for the installation year. Residents must note that the tax credits are neither a rebate nor a refund. Homeowners need to have a federal tax liability in order to benefit from the tax break.
Energy Equipment Property Tax Exemption
The installation of solar power has been proven to increase a home's value overall. In Arizona, solar panels are indeed eligible for a property tax exemption. This means if your solar system does increase your home's value, then you might be exempt from paying taxes on the recently raised value. This tax exemption can also be applied to the following:
Solar pool heaters.
Solar water heaters.
Solar space heaters.
Passive solar technology.
Solar thermal electric.
Solar thermal process heaters.
Other solar-powered appliances.
Solar Equipment Sales Tax Exemption
Arizona currently offers residents a sales tax exemption for the retail sale of any solar energy devices, and for the installation of said devices by licensed contractors.
Why Install A Solar Attic Fan?
How exactly does a solar fan work to circulate your attic's air? These fans work by efficiently pulling in cold air from the soffits. Then, the fans will push any hot air found below the fan outwards. Essentially, this motion mimics the way hot air moves naturally. Warm air always stays on top, while the cold air rests at the bottom. Attic fans are there to aid the movement and circulation of air within your home or commercial property.
Solar fans will provide a constant and efficient air flow daily throughout the attic. Stale, warm air will be vented outwards to give the area more cool air. Experts refer to this process as the "air exchange." It may seem normal for your attic to be the warmest area of your home, but the experts say this room should never be 10-25 degrees above the outside temperature. A properly ventilated attic will undoubtedly reduce your energy costs. W
arm air will rise from the inside of the home during the colder seasons. This air will eventually collide with cooler air near the roof. Solar fans are there to prevent air from simply condensing on the surface, keeping the attic area dry. This is usually not a concern in a place like Arizona.  Benefits Of Solar Attic Fans
Solar Attic Fan Pros
Here are the advantages of having solar attic fans: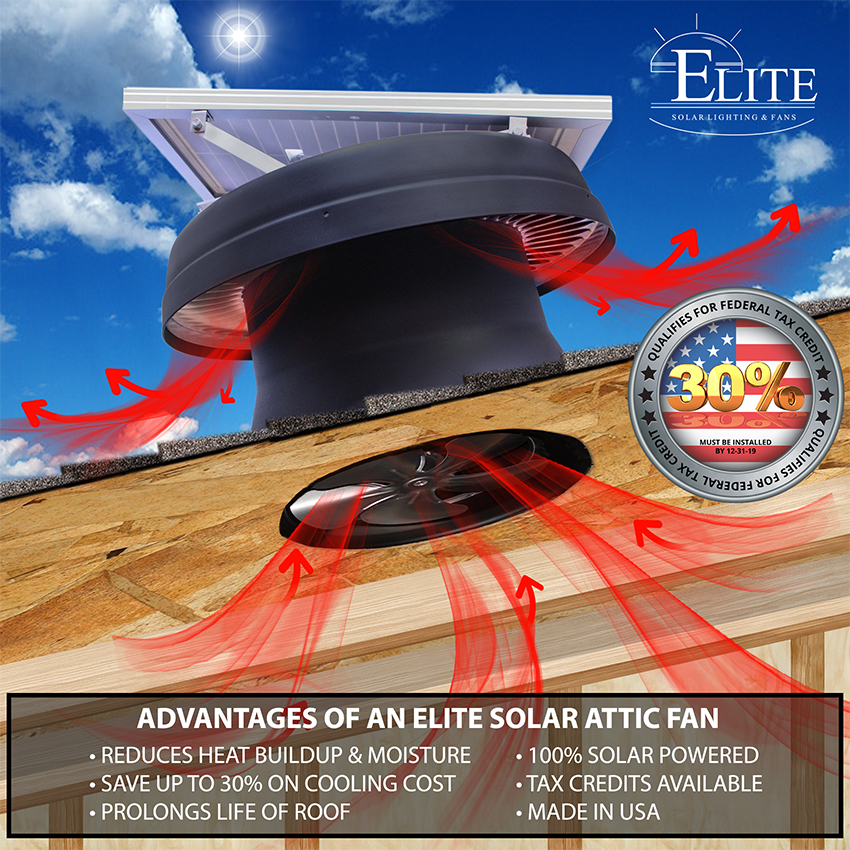 Run On Solar Energy
Because these fans are powered by the sun, they are considerably cheaper than most conventional fans. This means you will need no extra electricity from your home or business to power up these fans. Saving on electricity costs and helping the environment are just two reasons why solar attic fans are rising in popularity. 
Cools Down Attic Area
Another pro in the solar attic fan checklist is the fact that these will cool down your attic area, considerably. Cooling down the attic will then translate to keeping the entire home cool. The more hot air that is kept out of the attic – the more hot air that is kept out of the home in general. Solar attic fans are also known for keeping the attic space clear of any harmful dust or dirt. Keeping your home's temperature low will help you save money on future cooling costs.
Less Expensive Than Full Ventilation Systems
Solar attic fans are typically less expensive and easier to install than full ventilation systems. These solar attic fans require less time and a much less invasive installation process.
Solar Tube Installation In The East Valley
Elite Home Daylighting Systems offers tubular skylights and solar attic fan installation services to the entire Phoenix east valley. Service area includes Chandler, Gilbert, Mesa, Tempe & more! Contact us for a free quote today!
More Articles About Solar Tubes